Description
Size YOU NEED | Dimensions | Conversions
SAMPLE
Reviews (0)
Description
ITEM DESCRIPTION: Cow Area Rug. Fashion Leathers now provides the ageless beauty of Cow skins to its customers. This article still has the original hairs and colors of the Cow. Hair won't come off or fade due to sun exposure. The natural color and lack of chemical additives makes it is easy to clean and durable enough to handle heavy traffic. 
This rug collection is truly unique 100-percent hair on hide rug with exact sizes that vary from one another. These skins originate from Argentina and are handpicked for quality, and fit nicely with other Southwestern-themed decor. Maintaining a flawless fusion of affordability and durable decor, this piece is a prime example of impeccable artistry and design. Encompassing the time honored tradition of hand crafted rug making, the elegant and exquisite design of the hand tufted rug will surely radiate a sense of lavish design within your home. Rather than individual braiding threads into the loom, weavers use a tufting gun, or small instrument that individually shoots yarn into the latex backing of a rug. With this intricate and concentrated construction process, this style of piece will surely craft an ideal addition to any space.
SUGGESTED USE: Ideal for floors, area rugs, covering furniture, hanging on walls, upholstery, cushions, craft projects and etc. With its strong durability and soft surface this will be perfect for your next project or unique decoration.
THICKNESS: 3.0 to 4.0 mm = 6.0 to 8.0 oz.The length of hair very on efferent part of skin can be up to 1" long.  
Size YOU NEED | Dimensions | Conversions
The information below shows the APPROXIMATE Length and Width in inches of skins based on their square footage. This chart is intended to aid you in choosing the appropriate sized skin for your project. However, it is highly recommended to choose a larger skin to compensate for any shape irregularities. Please remember, NO two animal skins have the same size and shape. Skin Size – Measurements reflect the APPROXIMATE dimensions you will expect to receive according to the total surface area of skin.
Less than 2 Sq.Ft. Skin / Promotional items may have UNPREDICTABLE dimensions
3 Sq.Ft. Skin 15″ W X 12″ L
4 Sq.Ft. Skin 15″ W X 20″ L
5 Sq.Ft. Skin 15″ W X 24″ L
6 Sq.Ft. Skin 20″ W X 27″ L
7 Sq.Ft. Skin 24″ W X 30″ L
8 Sq.Ft. Skin 24″ W X 34″ L
9 Sq.Ft. Skin 24″ W X 36″ L
10 Sq.Ft. Skin 27″ W X 36″ L
11 Sq.Ft. Skin 27″ W X 39″ L
12 Sq.Ft. Skin 29″ W X 41″ L
13 Sq.Ft. Skin 34″ W X 45″ L
14 Sq.Ft. Skin 36″ W X 48″ L
15 Sq.Ft. Skin 38″ W X 52″ L
16 Sq.Ft. Skin 40″ W X 55″ L
SAMPLE Size 2.5″ W X 5″ L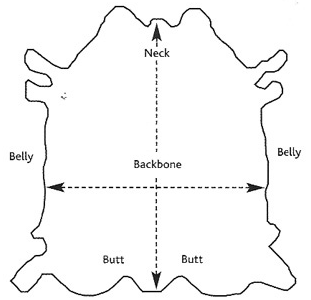 If you have a project that requires a specific dimension that is within the dimensions above we may be able to accommodate your request, no promises. In order to place a request you need to type in a description of what you wish in the "comment" section when checking out. Here, you should type in the exact dimensions you need. To be on the safe side it is always a good idea to go with larger size skin. Note: Whatever is in our inventory is listed in our store.
Save
Save
Save
Save
Save
SAMPLE
These samples are a great way to and feel the product before you commit to purchase.
Sample Size is: 2.5″ W X 5″ L. labeled with sticker.
You can find this in Each Product Page "Size, Chose an option" drop down.