Genuine Italian ULTRA Premium Lambskin Leather Hides Thin / Soft Standard Jade
$3.98 – $69.98
Description
Size YOU NEED | Dimensions | Conversions
SAMPLE
Reviews (1)
FAQ
Description
ITEM DESCRIPTION: Genuine Italian LambSkin Leather/Hide, ULTRA PREMIUM STANDARD FINISH. Standard finish is the most common and widely used leather product ever to be produced. Fashion Leathers has taken this simplistic article and applied hundreds of years of Italian artistry and techniques to provide the best standard finish on the market. Ultra premium standard finish is the highest quality Italian lambskin in existence. This article was prepared with the finest possible raw materials and processing techniques resulting in a flawless skin with no defects. These skins are as close to perfect as you can get. In addition, we used large skins for this article so you have more surface area to work with and no longer need to cut and sew pieces together. This type of finish is the most popular due to its strength, small grain and unbelievably soft touch, making it useful for many applications.
SUGGESTED USE: Garments, Handbags, Hats, Gloves, Chaps, Dolls, Slippers, Motorcycle Seats, Chairs, Upholsteries, Cushions, Craft Projects, Trimmings / Accents and More!

THICKNESS: 0.4 – 0.5 mm = 0.8 – 1.0 oz. Ultra Thin/Soft! and pliable for all projects, you can sew with a home sewing machine or by hand.

COLOR: Jade

SELECTION: The best possible selection. Virtually no defects.
Size YOU NEED | Dimensions | Conversions
The information below shows the APPROXIMATE Length and Width in inches of skins based on their square footage. This chart is intended to aid you in choosing the appropriate sized skin for your project. However, it is highly recommended to choose a larger skin to compensate for any shape irregularities. Please remember, NO two animal skins have the same size and shape. Skin Size – Measurements reflect the APPROXIMATE dimensions you will expect to receive according to the total surface area of skin.
Less than 2 Sq.Ft. Skin / Promotional items may have UNPREDICTABLE dimensions
3 Sq.Ft. Skin 15″ W X 12″ L
4 Sq.Ft. Skin 15″ W X 20″ L
5 Sq.Ft. Skin 15″ W X 24″ L
6 Sq.Ft. Skin 20″ W X 27″ L
7 Sq.Ft. Skin 24″ W X 30″ L
8 Sq.Ft. Skin 24″ W X 34″ L
9 Sq.Ft. Skin 24″ W X 36″ L
10 Sq.Ft. Skin 27″ W X 36″ L
11 Sq.Ft. Skin 27″ W X 39″ L
12 Sq.Ft. Skin 29″ W X 41″ L
13 Sq.Ft. Skin 34″ W X 45″ L
14 Sq.Ft. Skin 36″ W X 48″ L
15 Sq.Ft. Skin 38″ W X 52″ L
16 Sq.Ft. Skin 40″ W X 55″ L
SAMPLE Size 2.5″ W X 5″ L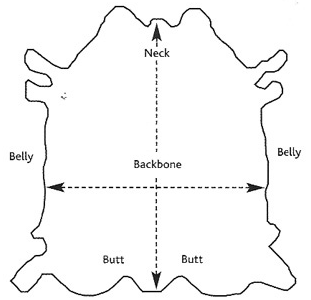 If you have a project that requires a specific dimension that is within the dimensions above we may be able to accommodate your request, no promises. In order to place a request you need to type in a description of what you wish in the "comment" section when checking out. Here, you should type in the exact dimensions you need. To be on the safe side it is always a good idea to go with larger size skin. Note: Whatever is in our inventory is listed in our store.
Save
Save
Save
Save
Save
SAMPLE
These samples are a great way to and feel the product before you commit to purchase.
Sample Size is: 2.5″ W X 5″ L. labeled with sticker.
You can find this in Each Product Page "Size, Chose an option" drop down.